- "The finest (and only) kosher chinese restaurant in the Washington, DC metro area."
We're Open!!!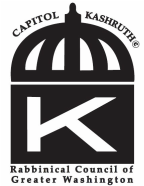 Welcome to the Holy Chow website. If you like Chinese food, keep kosher and live in or are visiting the DC metro area then you are in for quite a treat.
Things have been going pretty smoothly over the last few weeks and the DC community has really come through by regularly supporting us. With that being said, I think we've reached a point where we feel comfortable allowing those of you who contributed to the GoFundMe campaign to cash in. Go knock yourselves out.

We plan to offer weekly deliveries to the following locations:
Date & Time
City
Location
Status
Wednesday 5:30 PM
Potomac, MD
Available Now!
Tuesday 12:30 PM
Washington, DC
Suspended
TBD
Washington, DC
TBD
Coming soon...
TBD
College Park, MD
TBD
Coming soon...
NOTE: A delivery fee of $5.00 per order is requested. Thank you.
Note: Since we close at 2:30 PM on Fridays, we recommend calling in your Friday orders earlier in the week, if possible. We look forward to serving you.